Modernizing Patient Engagement:
An Introduction to Patient-Centered Engagement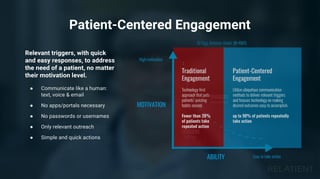 Traditional patient engagement has not lived up to its promise. Only 34% of patients today use a portal, and less than 5% log in twice. Meaningful Use told doctors they need to use a portal, but it seems like nobody told patients.
Relatient takes a different approach to engagement and as a result up to 90% of patients repeatedly engage by taking a desired action. We call it Patient-Centered Engagement, tune in to learn:
What we all got wrong with traditional engagement
Why engagement fails or succeeds using BJ Fogg's Behavior Model
How a patient-centered approach to engagement is applied to:

Appointment Reminders
Health Campaigns
Patient Payments
Check-in
Non-Medical Transportation
Watch the replay of our webinar.